MOTOBU-RYU HONBU HEADQUARTERS FOR NORTH AMERICA DIRECTLY UNDER
MOTOBU CHOSEI SOKE, 10
TH
DAN
---
FOR CHILDREN
---
---
---
---
FOR LATEST UPDATES AND NEWS ON OUR PROGRAMS PLEASE CHECK FACEBOOK:
---

---
We look forward to seeing you soon and excited to teach your child(ren) some exceptional material to oversee their progress in skill development. We want to see them confident, proud, enthusiastic and strong, not only in their physical abilities but also in the development of their minds so that they can carry forth such qualities into their everyday lives !
---

---
---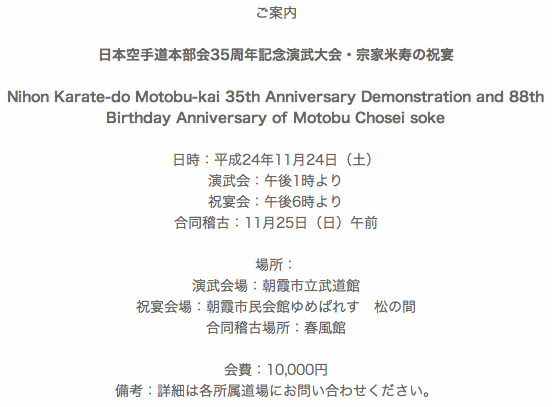 Our Mumonkan Dojo Demonstration in Saitama, Japan
---
CLASS REGISTRATION FOR CHILDREN
FALL 2017
---
Please show up 10-15 min prior to class at any of our clubs listed below to register.
We accept students 4 years old and up.
---
EDMONTON KARATE CLUB SCHEDULES
CHILDREN'S PROGRAMS:
MILLWOODS AREA:
Minchau School (3615 Mill Woods Rd. E.)
* includes program for Parents *

Saturdays, 9:45am - 11:45am

MEADOWS AREA:
Meadows Recreation Centre (2704 - 17 St.)

Sundays, 12:30pm - 1:30pm

SOUTHGATE AREA:
Richard Secord School (4025 - 117 St.)
* includes program for Parents *

Tuesdays, 6:00pm - 8:00pm

TERWILLEGAR AREA:
Dr. Margaret-Ann Armour School
(3815 Allan Dr.)
Thursdays, 6:00pm - 7:00pm

Terwillegar Recreation Centre
(Program Room 2 - 2051 Leger Rd.)

Saturdays, 3:00pm - 4:00pm

Terwillegar Recreation Centre
(Multipurpose Room B - 2051 Leger Rd.)

Sundays, 10:00am - 11:00am

WESTEND AREA:
Thorncliffe School (8215 - 175 St.)
* includes program for Parents *

Thursdays, 6:00pm - 8:00pm

NORTH AREA:
Clareview Recreation Centre (3804 - 139 Ave)

Wednesdays, 6:30pm - 8:00pm

FILIPINO MARTIAL ART:
www.FMA-KIDS.com
Minchau School (3615 Mill Woods Rd. E.)
* includes program for Parents *

Saturdays, 11:50am - 12:50pm


** PRIVATE TRAINING sessions now available - call 780.439.8967 to book **

Every student has an option of attending several classes a week.
---
---
Our Chief Instructor, being a former Police Officer brings an advanced level of depth, experience and psychology for maximum benefit of all our students adult and children alike, rare to any martial art programs or clubs.
Shihan P. Kobos, 5th Dan Renshi, is the only Shihan master instructor of Motobu-ryu Karate Do outside of Japan, and the first foreigner to hold a such licence. He also has a second separate Shihan licence directly from Kyoto, Japan (Dai Nippon Butoku Kai) with over 27 years of experience in martial arts. Shihan Kobos founded the Mumonkan Dojo 23 years ago (official listing) and is an active director of two Japanese Organizations (Nihon Motobu-Kai in Osaka and Motobu Kobujutsu Kyokai from Okinawa). He also holds a title of "Guro" in ®Sayoc Kali Filipino Weapons Martial Arts representing Western Canada (Alberta Sayoc Kali).
We strive to give you the best training with the highest standards in skill development that has for years brought international respect, recognition and opportunities to our group.
Children's programs, in addition to teaching fundamentals of karatedo, address the psychology of self-esteem, resistance to peer pressure, the art of paying attention, courtesy, responsibility, maturity and ethics, so many times neglected or lacking in our day and age. The students are also taught how to resolve conflict without resorting to physical aggression as well as how to avoid and get out of potentially dangerous situations, including bullying or physical attack.
Adults' (and Parents') program through our unique teaching methodology offers solid physical training, teaching self-protection fundamentals, concepts and skill sets of Karate-do, Okinawan jujutsu and Kobudo weaponry with expertise like no other. Our goal is to turn you into an exceptionally skillful, efficient, knowledgeable and intelligent practitioner of the arts, both physically and psychologically. And we know how to do it. You are invited to join us and experience this journey for yourself.
For over 23 years in Edmonton and elsewhere, on numerous occasions, our teachings have saved many of our students and family members from situations of immediate danger and bodily harm. This is a fact that we are very grateful for and a testament for the training we provide.
The high quality of instruction with its professional attitude is presented in a safe, courteous, and respectful atmosphere. This, above all makes these programs an enjoyable activity of choice and the knowledge gained, a valuable skill for life.
Filipino Martial Art: Children and Adults - First of its kind, an innovative program that is both eye opening and educational. Based on the exciting Filipino Kali, stick arts and realistic law enforcement training, it provides an exceptional martial art skill set for our students not encountered in other children's programs in Canada.
---
DIRECT KARATE OF BUSHI CHOKI MOTOBU AND
MOTOBU UDUNDI MARTIAL ART OF THE OKINAWAN ROYAL FAMILY
---

---
OUR INSTRUCTORS CONTINUE TO TRAIN IN JAPAN AND OKINAWA IN KARETE DO. THEY ARE TESTED, ACTIVELY LICENSED AND DIRECTLY PRESENTED WITH HARD EARNED AUTHENTIC JAPANESE RANK PLUS TEACHING CREDENTIALS WHILE IN JAPAN, BY CENTURIES OLD LEGITIMATE AUTHORITIES.
OUR MUMONKAN DOJO IS LISTED, REGISTERED, RECOGNIZED AND RECOMMENDED AS THE CANADA DOJO FOR STUDENTS AND INSTRUCTORS TO TRAIN IN, BY SEVERAL JAPANESE AND OKINAWAN ORGANIZATIONS.
OUR CHIEF INSTRUCTOR IS A FORMER POLICE OFFICER WITH OVER 27 YEARS OF MARTIAL ARTS EXPERIENCE, HOLDING A SHIHAN MASTER INSTRUCTOR TITLE (MOTOBU-RYU) DIRECTLY FROM OSAKA, JAPAN AS WELL AS A SEPARATE SHIHAN MASTER INSTRUCTOR LICENSE IN KARATE-DO (ISSUED BY DAI NIPPON BUTOKU KAI) DIRECTLY FROM KYOTO, JAPAN.
---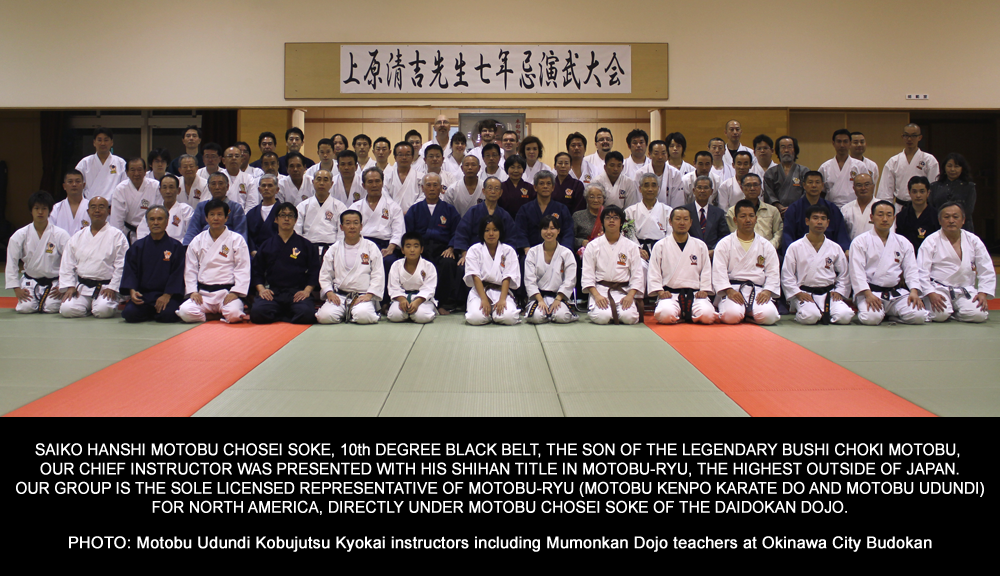 Motobu-ryu Japan:
www.motobu-ryu.org
---
---
Edmonton Community Karate Association, a non-profit group
Training Students in our city for over 25 years
---
Other highly Recommended Martial Art Programs in Edmonton
---
© 2009-2017 Mumonkan Dojo